Master Fuad Kouichi Honda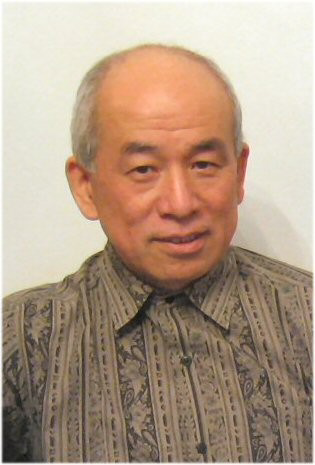 ・ Arabic Calligrapher (Holder of Ijaza<Diploma of Arabic Calligraphy> given by Turkish master calligrapher Hassan Cheleby, 2000)
・former Professor, Faculty of International Relations, Daito Bunka University in Japan(2002-2016)
・ President of Japan Arabic Calligraphy Association
1946 Born in Tokyo
1969 Graduated from Tokyo University of Foreign Studies, Arabic Dept.
1974 Joined Pacific Aerial Survey Co., Ltd. Japan.Dispatched by the said company to Saudi Arabia, Yemen, Libya,    Lebanon and other Arabic countries as an interpreter /    coordinator for the geographical field work.
    During his stay in these countries during five years, he
            learned the basics of Arabic calligraphy from local Arabic
            calligraphers. After his return to Japan, he studied
            Arabic calligraphy by himself while he began to teach Arabic. 
1988 Participated in Baghdad International Festival for Arabic Calligraphy and Islamic Ornaments held in Baghdad, Iraq.
1990 Awarded an encouragement prize of the jury in the 2nd


International Arabic Calligraphy Contest in Turkey.

1991 Held an Exhibition of Arabic Calligraphic works in Tokyo, Japan under the title of " Splendor of Arabic Calligraphy.

1992 Held an Exhibition of Arabic Calligraphic works in Doha, Qatar under the title of " New Horizon of Arabic Calligraphy" under the auspices of Ministry of Information, Qatar.

1993 ◯ Awarded an incentive prize in the 3rd International Arabic Calligraphy Contest in Turkey.

◯ Held an Exhibition of Arabic Calligraphic works at Opera House in Cairo, Egypt under the auspices of Egyptian Ministry of Culture.

1994 Held an Exhibition of Arabic Calligraphic works in Tokyo and Osaka, Japan.

1997 Held an Exhibition of Arabic Calligraphic works in Kuala Lumpur, Malaysia under the auspices of Rashid Hussain Berhad.

1998 Participated in the 3rd International Arabic Calligraphy

Exhibition in Kuwait under the auspices of Kuwait Ministry of Awqaf and Religious Affairs.

2000 Granted "Ijaza" (Diploma of Arabic calligraphy) by Turkish Master Calligrapher Hassan Cheleby.

2001◯ Participated as an artist representing the Asian continent in Global Art Exhibition held in Muscat , Oman under the auspices of Oman Royal Court.

◯ Participated in Holy Quran Exhibition held in Teheran, Iran. 




2002 FEB of his works were selected as winning works in Iranian International Islamic Calligraphy Contest held in Teheran.

2003 Held an Exhibition of Arabic Calligraphic works in Riyadh, Saudi Arabia under the auspices of King Faisal Centre for Researches and Islamic Studies.

2004 Participated in Arabian Night Exhibition held by Museum of Ethnology in Osaka, Japan.

2005 Participated in Ijaza Exhibition held by British Museum in London.

2006 MAR Participated in Dubai Intirrational Exhibition of the Art of Arabic

Calligraphy

2006 MAY Participated in "Word into Art" Exhibition held in British Museum in London.

British

Museum acquired three pieces of his works as its permanent collections.

◯ NOV Held an Exhibition of Arabic Calligraphy under the title of "Exhibition of Fuad Honda and his disciples' Arabic Calligraphic Works" under the auspices of Arabic Islamic Institute in Tokyo.

2007 Held an Exhibition of Arabic Calligraphic works in Istanbul, Turkey under the auspices of IRCICA.

2008 JAN Asian Civilizations Museum in Singapore acquired three pieces of his works as its permanent collections.

◯ MAR Participated in Book Fair held in Riyadh, Saudi Arabia by exhibiting some of his calligraphic works and delivering lectures on Arabic calligraphy in Arabic.

◯ NOV Participated in International conference under the title of "New horizon in Islamic studies" in Malaysia and deliver lectures on Arabic calligraphy.


2009 Participated in Arabic calligraphy exhibition held in Malaysia under the auspices of Restu Foundation.

2011 MAR  Participated in Aslar Sadsi Festival in Bukhara, Uzbekistan by

exhibiting some of his works.

2013 DEC Invited at "NUN WA ALQALAM" Exhibition in KualaLumpur, Malaysia

under the auspices of Islamic Arts

Museum Malaysia

2012 DEC Participated in the exhibition of "Kuwait's 6th International




Islamic Convention" under the auspices of Kuwait

Islamic Arts Center.

2014 FEB  Participated in "Letters and Illumination" Exhibition held in




Medina, Saudi Arabia

2016 OCT Held as an instructor a intensive course of Arabic calligraphy in

The Prince's School of Traditional Arts in London.

2018 APR Participated in "Beyond the Letters" Exhibition held in The Sharja Museum of Islamic Civilization in UAE

2022 MAY Invited to Abu Dhabi Arabic Language Centre, UAE and made speech on his works and Arabic calligraphy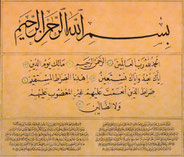 * Books on his Arabic calligraphy works:
・"An Exhibition of Islamic Calligraphy by Kouichi Honda" (Bashir Mohamed Ltd., Malaysia, 1994)
・"Islamic Calligraphy" (Rashid Hussain Berhad, Malaysia, 1996)
・"The Cosmos of Arabic Calligraphy"-The Works of Fuad Kouichi Honda -  (Hakusuisha, Japan,2006)(out of print)
* Textbooks for Arabic calligraphy:
・ "A Textbook for Naskh Scripts" (in Japanese, Japan Arabic  Calligraphy Association,2008)
・ "A Textbook for Ruq'a Scripts" (in Japanese, Japan Arabic Calligraphy Association, 2009)
・"A Textbook for Deewaani Script (in Japanese, Japan Arabic Calligaphy Association, 2013)
・"A Textbook for Thulth Script (in Japanese, Japan Arabic Calligraphy Association, 2014)
・"A Textbook for Jaly Deewaani Script (in Japanese, Japan Arabic Calligraphy Association, 2015)
・"A Textbook for Nastaaliq (Farisi)Script(in Japanese , Japan Arabic Calligraphy Association, 2017)
* Translation in the field of Arabic calligraphy:
・ Japanese translation of " Fann al-Khatt"(The Art of Arabic calligraphy) published by IRCICA (Heibonsha, 1996)